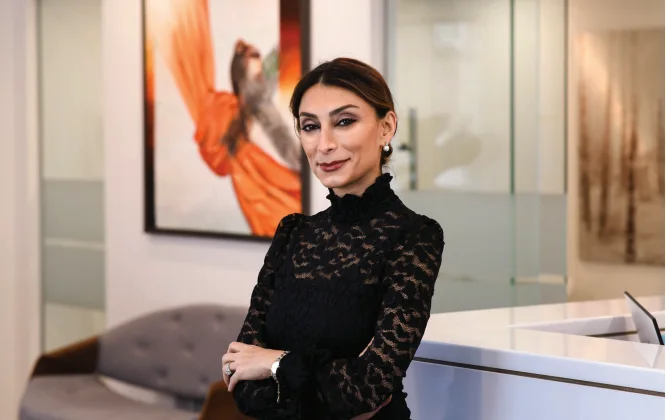 Dr. Leily Razavi's reputation for excellence is based on more than a decade of
clinical experience at the University of Pennsylvania Faculty Practice; hundreds of
hours of continuing education courses in digital small design, advanced aesthetic
and anti-aging dentistry; her residency at Albert Einstein Medical Center; and at
the globally recognized University of Toronto Dental School where she received
her Doctorate of Dental Surgery.
She combined her artistic talent, passion for medicine and excellence in clinical
dentistry to create her own dental practice in Center City, Razavi Dental, focused
on cosmetic, implant and restorative dentistry, demanding the best at every corner
for her patients. She practices with a discerning eye for detail and ambition for
patient satisfaction.
Razavi Dental is re-imagining what dental experience can be and proudly
setting a new standard for patient care. They are set apart by the environment
they create around delivering your best possible dentistry experience. From the
modern design, Zen atmosphere, curated music playlist and noise cancelling
headsets to their unique "comfort menu" and private parking for clients, they've
thought about every detail of your visit so you don't have to.
Patient and staff safety is their number-one priority and their office design
and equipment reflects that. From their state-of-the-art sterilization center, Sirona
dental chairs with sanitation towers, HVAC system with HIPAA filters, individual
treatment rooms to even a private personal waiting room, they have created one
of the safest and most comfortable dental offices in the area.
Their phenomenal staff employs a patient-first approach that ensures patients
are not only confident and informed about their treatment, but also empowered
with easy-to -use and convenient payment options and scheduling options:
Razavi Dental takes bitcoin #btc 
They pride themselves on using the highest quality products and cutting-edge technology
to enhance the patient's experience and results. Whether you need a general
screening and preventive care or you need a more comprehensive treatment and
smile makeover, Razavi Dental is determined to make sure you leave with a smile.
Source: Philadelphia Magazine March 2021